Karen Cobb
Happy
2002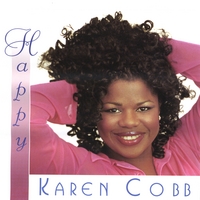 Order now!
"Her singing style is a fusion of Pop, R&B, Jazz and Hip Hop. On 'Happy' she has blended these singing styles into her own signature approach, making the CD a joy to listen to. 'When I Look at You' is a ballad that sounds like something Whitney Houston would love to wrap her vocal cords around. However, Cobb does a stellar job on this song, so Ms. Houston, hands off!"
-Charlie Vaughn, The Blade
After years of live performances and competitive singing, critics now agree with what audiences have known for years, Karen Cobb is a musical sensation. Karen writes, produces and of course performances all of her own music. Her debut CD, "Happy," first became available in 2000. Since then she has sold thousands of CD's by simple word-of-mouth.
From the Hip Hop flavor of the song Happy to the R&B roots of Heart of Stone, Karen displayed just the tip of her writing talents. The song To Be Your Baby has the doo-wop feel of the 50's with a millennium mix. The dance groove of Get On Up is a true pop-R&B mix with Karen's gospel roots. Giving you a performance of true soul.
The crown of this collection is the song When I Look at You. This song is a moving tribute to love. To be sure, the exciting and innovative CD "Happy" has displayed the promising talents of this rising star.
Happy
| | | | |
| --- | --- | --- | --- |
| | LISTEN | LYRICS | ORDER |
| 1. Happy | | | |
| | | | |
| | | | |
| | | | |
| 5. Heart of stone (club mix) | | | |
| | | | |
| | | | |
| | |
| --- | --- |
| BUY FULL ALBUM | |
| BUY FULL ALBUM DOWNLOAD | |