Karen Cobb
Where it Begins...
2006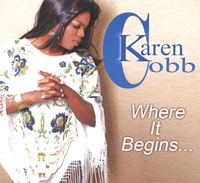 Order now!
Karen Cobb does it again with her latest album "Where it Begins." Featuring Karen's unique ability to write, produce and sing her original works. "Where it Begins" consists of six original songs and four covers of classics done her distinct way with a mix of Jazz, Pop, Funk, Gospel and Rock.
Karen's newest compilation strikes a beautiful balance in stories of loosing and gaining love. Issues, written by Karen, tell the story of a woman's emancipation from a difficult relationship. Issues has been compared to the sassy stylings of Respect. Juxtaposed to Issues is a cover of the intimate At Last.
The title track Where it Begins, about a couple recognizing love, is contrasted with a Jazz rendition of I will Survive. Perhaps the crest of balance on this album is found in the dance version of Natural Woman to a Rock performance of a new song, Your Way.
Where it Begins...
| | | | |
| --- | --- | --- | --- |
| | LISTEN | LYRICS | ORDER |
| 1. Issues | | | |
| | | | |
| | | | |
| 4. (I've Been Away) Too Long | | | |
| 5. (You Make Me Feel) Like A Natural Woman | | | |
| | | | |
| | | | |
| 8. His Eye On The Sparrow | | | |
| | | | |
| | | | |
| | |
| --- | --- |
| BUY FULL ALBUM | |
| BUY FULL ALBUM DOWNLOAD | |