Karen Cobb's latest Album
Where it Begins
Karen Cobb does it again with her latest album "Where it Begins." Featuring Karen's unique ability to write, produce and sing her original works. "Where it Begins" consists of six original songs and four covers of classics done her distinct way with a mix of Jazz, Pop, Funk, Gospel and Rock.

Donate to the Diva Fund
A Diva is a terrible thing to waste!"
design by m2mediadesigns.com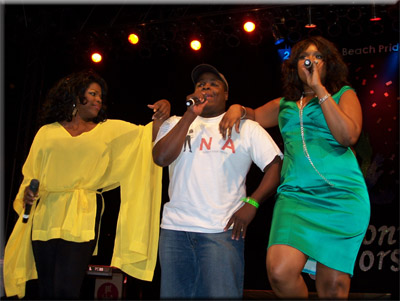 Watch Karen Cobb Live
on Stage with
Jennifer Hudson
Listen to Karen's c.d. Where It Begins..
Karen's song "All About Me" has won
1ST PLACE IN THE 13TH ANNUAL BILLBOARD SONG WRITING CONTEST IN R&B!!
Billboard 2006 Song Contest Winners
"She knocked my socks off. This lady has pipes. She has soul. She has style."
-Ed Munson, Desert Daily
"Cobb has a voice that is reminiscent of an early Donna Summer meets Bonnie Pointer, with just a dash of Gladys Knight."
-Shane Bruce, Blade Music
"'When I Look at You' is a ballad that sounds like something Whitney Houston would love to wrap her vocal cords around. However, Cobb does a stellar job on this song, so Ms. Houston, hands off!"
-Charlie Vaughn, The Blade