Karen Cobb
It's All About Me
2004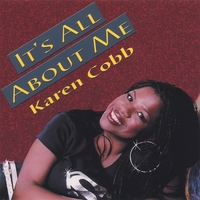 Order now!
There is no mistaking, this CD is all about Karen Cobb and you are sure to agree. Her second CD has continued to impress critics with her blend of Funk and R&B soul with a style reminiscent of such greats as Tina Turner, Al Green and Gerald Levert.
This CD features new songs written and co-produced by Karen including First a song suggestive of the classic 70's down-home Funk and fun. The title cut It's All About Me, has it's own urban-Caribbean flavor that makes you lean back and relax to the groove.
Karen's song writing takes the listener on brilliant journeys with stories of love, loss and redemption such as those in Love Will Play The Fool, Without You, It Feels Alright and You Had It All.
The only cover song to grace the "It's All About Me" CD is If I'm Not In Love With You, originally recorded by Faith Hill. Karen's version of this classic has left countless listeners in tears during live performances.
Also included on the CD is a new cut of Karen's original When I Look At You, from her first album "Happy."